All of a sudden it hit me out of the blue, it didn't feel right. There is no doubt that we love each other, but do we love each other in the way only people in love do? If not, am I ready to give myself away to a man who does not make me feel that way, and ready to throw away both of our future chances of feeling that it feels right?

I have always been a bit in love with love, I have wanted everything so much that I may have put the cart before the horse, and all of a sudden I understood that we were both making a mistake.

You get where this is going. I am not getting married this time, despite how overwhelming everything has been, how amazing our love was - unconditional beyond all boundaries - it didn't make it all the way. You know that quote that reads: "Take a Lover who Looks at You like Maybe You are Magic." It probably was never quite right. I "settled" for a very long time, just because Mike was like magic to me. But then I realized that he made me lose my own magic - and when I realized that, there was no return.

We haven't fought once since I opened up about cancelling the wedding, we've cried together a few times, but they are tears of love, because we will always want what's best for one another; and we have both understood that this is for the best. One day I will do everything again and I look forward to that! Having a ring on my finger, looking down on it and smiling, because I will be the happiest girl on earth with the world's happiest man.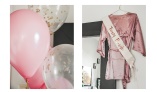 There are now approximately 150 days left until the wedding and during the search for my own dress it felt like it was time to start looking at bridesmaids dresses. For me it is important that my bridesmaids feel like they are a part of the show.
Me and my girls have a group chat that we call "Belzilla" (let's see when it does the name justice, haha). Using that, we tend to send lots of inspiration on potential outfits for the wedding. I want them to shine like the goddesses they are, on my day. I almost get teary when I think about it.

Now I wanted to get the girls together to go and died the perfect bridesmaids dresses. I quickly decided that this time too, I wanted to do something fun for the girls. I ordered two dresses that everyone agreed on, and one more favorite dress each.
The girls had no idea about my plan, and were completely surprised by what I had done. It's awesome what can be done with cute robes and balloons, together with candy. The robes were greatly part of the super body feeling, the world"s most comfortable fabric.

When it comes to the dresses, we felt like it would be classic if they were edgey, and I absolutely think that the dresses we chose gave us that.

Finding the perfect wedding dress is what I've been looking forward to most of all while planning. My wedding planner has been on to me about this for some time now - because the day is getting closer. But if I had to make a choice now, then the best part would be over.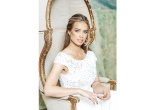 I have for a long time thought about what I want my wedding dresses to look like. I prefer a slightly more traditional dress in church, changing to another one for dinner and perhaps a third for the party (and I'm the one not calling myself bridezilla, haha). The advantage of having more than one dress is that you don't have to find exactly what you're looking for in one single dress.

We won't decorate too much in the church, so there I can go for a more unique dress. At the party, however, there will be lots of decorations, flowers, a cake and other things, so that is where I want a more simple-looking design.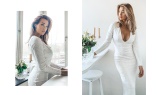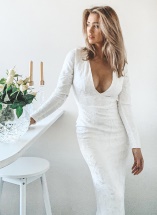 Pinterest and Instagram are currently my best friends when finding wedding inspiration. I have also been to a wedding exhibition and will surely visit another one. Spontaneously it feels like Swedes are holding back when it comes to their weddings. It's much harder than I thought to actually go through with my dream wedding concerning decorations. But I'm collecting heaps of inspiration from Instagram and Pinterest and then you simply have to be a bit clever yourself as well …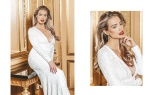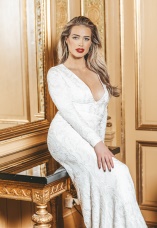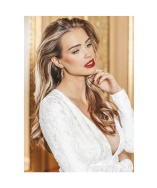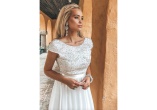 I can reveal that I've actually found one of the dresses. YAY! You'll get a sneak peek here below, it's the Gavi Dress from Zetterberg Couture, Isn't it just GORGEOUS? I am REALLY looking forward to cutting the cake in this one!

I knew immediately that I wanted to have a surprise party for my close friends, where I would ask them if they would be my bridesmaids. I love going all out on these types of things! Therefore I sent out a floral invitation with chocolate covered strawberries to the girls. On the invite I only divulged the dress code and the place we would meet in three weeks. 9.30 am we had gathered together and all the girls were wondering what the heck was going on, since we were meeting so early on a Sunday morning, haha! We took some photos and then the limo came to pick us up to take us to an unknown location.
Once at the hotel in town, the girls were met by balloons in the hall with their names on them, and a box for each of them connected to the balloons with a "message in a bottle" where I then asked them the question: Will you be my bridesmaid? They all accepted. YAY! The hotel room was decorated with cute and lovely things as well as presents and bubbly. I had bought us all matching outfits from Bubbleroom, which we all put on and then enjoyed a lovely brunch with loads of girl talk until late in the afternoon.
The theme was "too much of everything". I love dorky things and decorations, and that's just how it was. One tip is to make it personal with name tags and presents, so your friends feel extra special on the day. The best part about my event was seeing how well we all hit it off. I've always had separate friends, not the classic girl gang, so it was lovely to see that there was a type of family feel and that everyone had a good time together.
We tried to get the perfect photo in the gigantic tub. It was full of pink balloons, and as clumsy as I am of course I fell over and spilled champagne all over myself.
Photo: Elin Strååt | http://www.elinstraat.se